General Manager and cocktail expert Stuart Wilkinson created this wonderful indulgent cocktail which proved popular with diners over the Easter weekend, with great feedback from all who tried it. Here's how you make it.
What you need
25ml Baileys Irish Cream
25ml Double Cream
25ml Vodka
Chocolate Syrup
Caramel Sauce
Creme de Curacao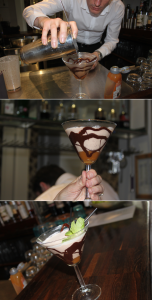 What you do
Chill Martini glass in freezer
Swirl chocolate syrup around inside of glass, then return to freezer to continue chilling.
Shake the Baileys, double cream, vodka and creme de curacao with ice.
Pour caramel syrup into bottom of Martini glass.
Gently pour shaken mixture over caramel syrup.
Garnish with mini chocolate egg!