Pumpkin is an underused ingredient that only rears its head (no pun intended!) around Halloween, but it makes for a delicious and versatile soup.
What you need
500g pumpkin
1 small chopped onion
1/2 litre of chicken stock
1 level tablespoon of corn flour
150ml cream
50g butter
Olive oil
Sage leaves for decoration
What it looks like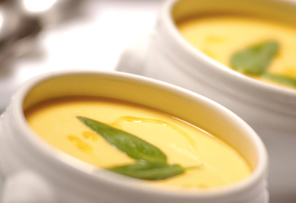 Wine
Italian whites such as Soave
From
Paul Heathcote, Heathcotes & Home 
What you do:
Skin the pumpkin and cut into large pieces. Place in a hot pan with a little olive oil for about three minutes until lightly coloured. Add the chicken stock, onion and sugar, and simmer for about 15 minutes until the pumpkin and onion are cooked. Add the cream and bring back to the boil. Mix the cornflour with one and half tablespoons of water, and stir in.
Allow to cool a little before placing in a liquidiser with the butter and process for about one minute.
Return to the pan and add the finely chopped sage. Bring to the boil and season with freshly milled pepper and sea salt as necessary and finish with a drizzle of olive oil and a few sage leaves.