These simple biscuits are delicious and quick and easy to make. Great on their own or as an accompaniment to a meal.
What you need
50g grated red cheddar
50g grated Parmesan
50g plain flour
50g unsalted butter
Flour for rolling
Pinch of cayenne pepper
What it looks like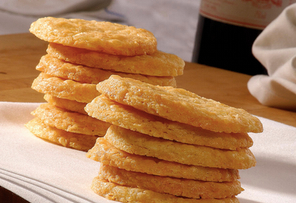 What you do
Put all the ingredients in a bowl and rub together well. Mould into a ball of cling film and rest for 30 minutes in a fridge.
Roll out the dough about 3-4mm thick and cut out biscuits with a 6cm cutter. Put them on to a lightly greased tray, prick each one once with a fork and bake for about 10 minutes or until light brown at 180°C.
Lift onto a cooking wire to cool before serving.