This recipe is one of my most well known dishes – my take on the classic Bread & Butter pudding. This was on my very first menu back in 1990 at The Longridge, and still remains on Heathcotes Brasserie's menu today.
The recipe is the same; I sometimes feel like The Rolling Stones playing Satisfaction or Coldplay singing Yellow – that if we didn't have Bread & Butter pudding on the menu, we would have uproar! It's what many of our customers over 20+ years have come for.
Just like those artists who've not changed the words, we've not changed the ingredients or quantities, in spite of many saying it isn't quite the same. I suppose when you've been making something for 22 years, you do perfect it!
What you need
5 thin slices of white bread
75g butter
100g sultanas
3 eggs
220ml milk
220ml cream
50g sugar
1 vanilla pod split and seeds removed
25g icing sugar
50g apricot jam
What it looks like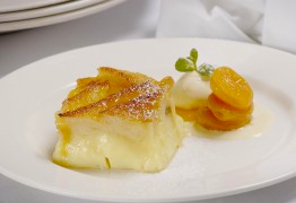 What you do:
Butter the bread and remove the crusts. Place one layer of bread on the base of the tray and cover with a layer of sultanas. Place the rest of the bread on top of the sultanas. Bring the cream, milk, sugar and vanilla to the boil in a pan and place the eggs in a bowl and whisk the hot liquid into them.
Pour over the bread and place the dish in a bain-marie and put in a moderate oven for about ½ hour until cooked. Dust with icing sugar and glaze until golden. Cover with apricot jam.
Serve with clotted cream and a compote of dried apricots.