Here is our first recipe spotlight, focusing on Pasta Recipes! We always recommend using fresh pasta for the very best taste – all of our pasta dishes in the restaurant are made using fresh pasta and although there is nothing wrong with the dried variety, we think you will notice the improvement in taste!
Basic Pasta Dough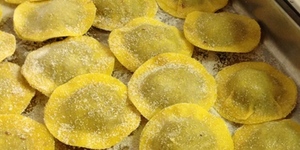 What you need:
500g '00' Flour
500g  Semolina
8 Egg yolks
5g Salt
Dessertspoon of water
What you do: Place all ingredients except the water into a blender and blitz. Add water a little at a time until the mix forms a crumb in the blender. A dessertspoon should be enough, but add a little more if required.
Remove the mixture from the machine and bring it together to form a dough, then knead for two mins. Wrap tightly in cling film and refrigerate for at least one hour prior to use. You can then use to create ravioli, flatten into lasagne sheets, or slice into tagliatelle.
If you have a small pasta roller attachment that attaches to your mixer, these work really well.
Spaghetti Piedmontese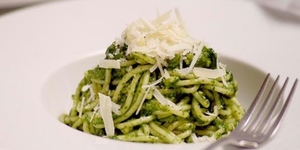 What you need (makes 6-8)
50g butter
½ small onion finely chopped
2 cloves garlic crushed
250g spinach well washed
8 leaves sage chopped
Nutmeg
Parmesan cheese grated
Sea salt & freshly milled pepper
500g spaghetti
What you do In a thick bottom pan melt half of the butter, add the onions and garlic and cook for about one minute.
Remove the stalks from the spinach and add to the onions and stir well before adding the sage. Season with nutmeg and a little salt and pepper.
Cook until the spinach is well wilted about 1-2 minutes and remove from the heat. Drain well to remove the water and place in a food processor and puree.
Meanwhile cook the spaghetti in plenty of boiling salted water until cooked but still firm, drain, stir in the remaining butter and check the seasoning.
Stir in the spinach and serve immediately with plenty of grated parmesan.
Pasta Carbonara with truffle oil and spring onions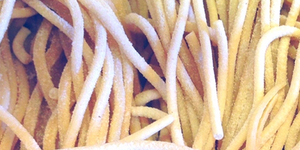 What you need (serves 4)
500g of spaghetti, guanaciale or bucatini
Dessertspoon of olive oil
2 cloves garlic crushed
6 slices pancetta cut into fine strips
Small glass wine
150ml double cream
2 spring onions finely sliced
50g pecorino cheese finely grated
2 egg yolks
100g cooked peas
Few drops of truffle oil
Sea salt and freshly milled pepper
What you do Place the pasta in a large pan of boiling salted water and cook as per the instructions.
Meanwhile in a medium saucepan add a dash of olive oil along with the garlic and pancetta and cook for about one minute.
Add the wine and boil well before adding the cream and returning to the boil.
When the pasta is cooked, drain well and return to the pan, but not the heat, add the spring onions, pour over the cream followed by pecorino cheese.
Whisk the yolks in a bowl and stir into the pasta followed by the cooked peas, add a few drops of truffle oil, season with salt and pepper and serve immediately.